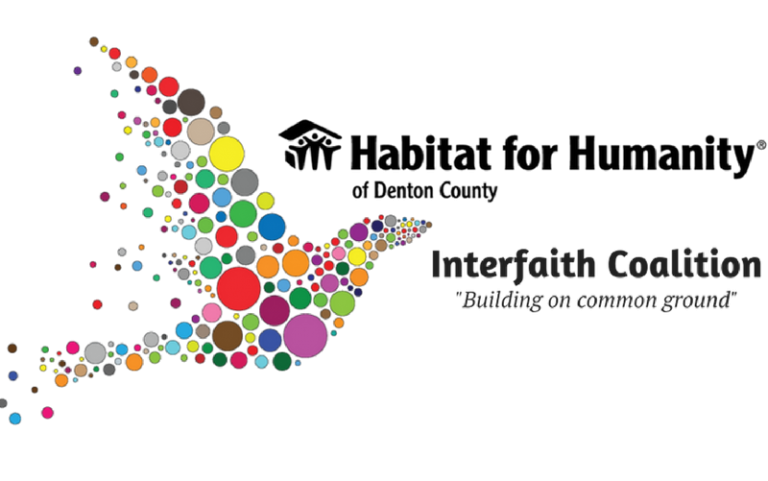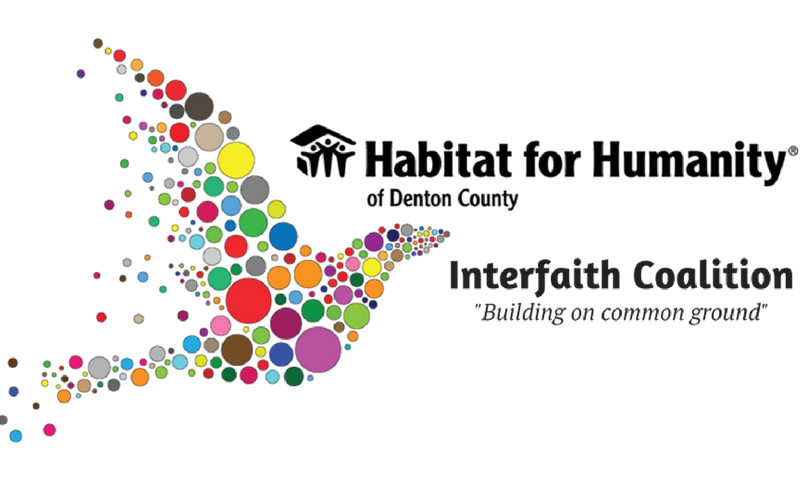 Building on Common Ground
As people of faith, we are called to respond to our neighbors' needs, acting as God's hands and feet in service to the world. When we come together to help people build better futures for themselves and their families, we actively participate in doing God's work in the world. Habitat for Humanity offers concrete ways for people of all faiths to love and serve their neighbors.  
Habitat for Humanity of Denton County is a Christian ministry, and we believe that building houses is a practical expression of Christian concern. Habitat invites people of all faith and no faith to join our efforts to eliminate poverty housing, and one does not have to be a Christian to work with Habitat or to be a Habitat homeowner.  
We have gathered 10 different congregations across Denton County for a 2021 Interfaith Build in Denton. An Interfaith Build brings people together of different backgrounds and faiths to put aside differences, build homes, and celebrate inclusion and diversity within our community.
2021 Interfaith Build Information
The 2021 Interfaith Build will be built at 506 Wye Street, Denton, TX 76201. The home is dedicated to the Crawford Family; learn more about them below. If you are part of one of the Interfaith Partner congregations and are interested in volunteering, please contact your congregation's Volunteer Coordinator or call us at (940) 484-5006. If you are not part of an Interfaith Partner congregation and would still like to volunteer, please call us at (940) 484-5006.
Meet Habitat's 106th Partner Family, the Crawfords!
Levatta Crawford is the single mother of 5 children. She is recently divorced and receives no child support; she works two jobs and is the sole provider for her family. After all she has been through, Levatta continues to have a strong, positive attitude, and, after applying two times, never lost faith in one day owning her own Habitat home.
In December 2015, Levatta's oldest son was shot and killed. He would have turned 31 last October. With the sudden loss of her son, and the loss of her nephew in a similarly tragic manner just eight months prior, Levatta says she was woken up. She realized she wanted the best in the world for her kids and things needed to change.
When Levatta and her ex-husband separated in the years following her son's death, she and the five kids needed a place to go, so they rented a small 900 sqft. 2-bedroom home. Levatta was used to working full-time to take care of the kids. In order to afford to give her kids the best life she could, she started working a part-time job in addition to her full-time job. Her resilience and love for her children in the face of immense hardship and trauma is inspiring.
The Crawfords currently rent an overcrowded, 1200 sqft. 3-bedroom apartment, where the 8-year-old son sleeps on the sofa in the living room. She is grateful to be in a better place in life, but their apartment rent is steep and rose again in August 2021 when their lease renewed. Levatta is excited that through Habitat her children will get to live in a stable, safe, and affordable environment that gives them the feeling that this is their home they that can be proud of, and that her young son will finally have his own bedroom.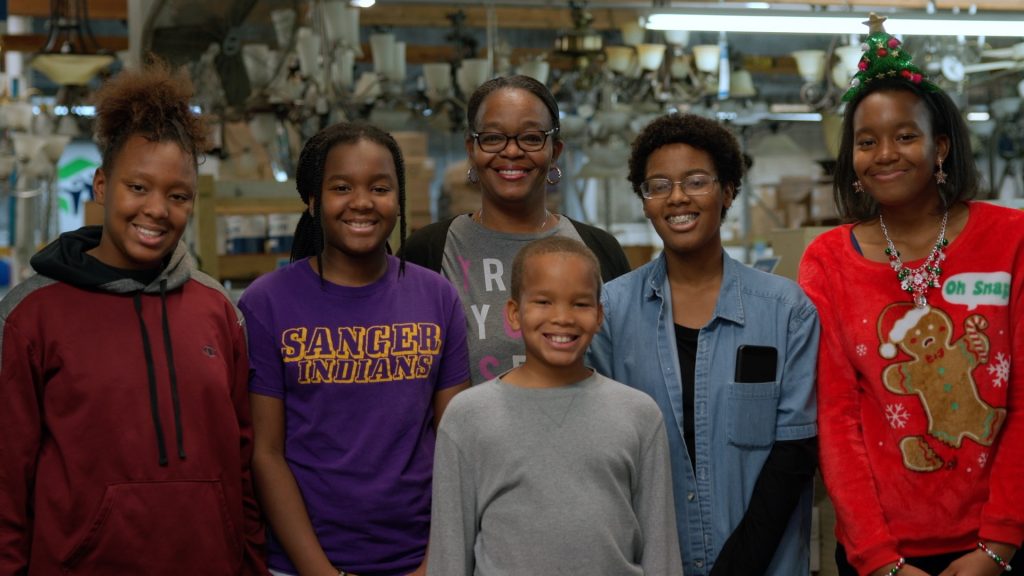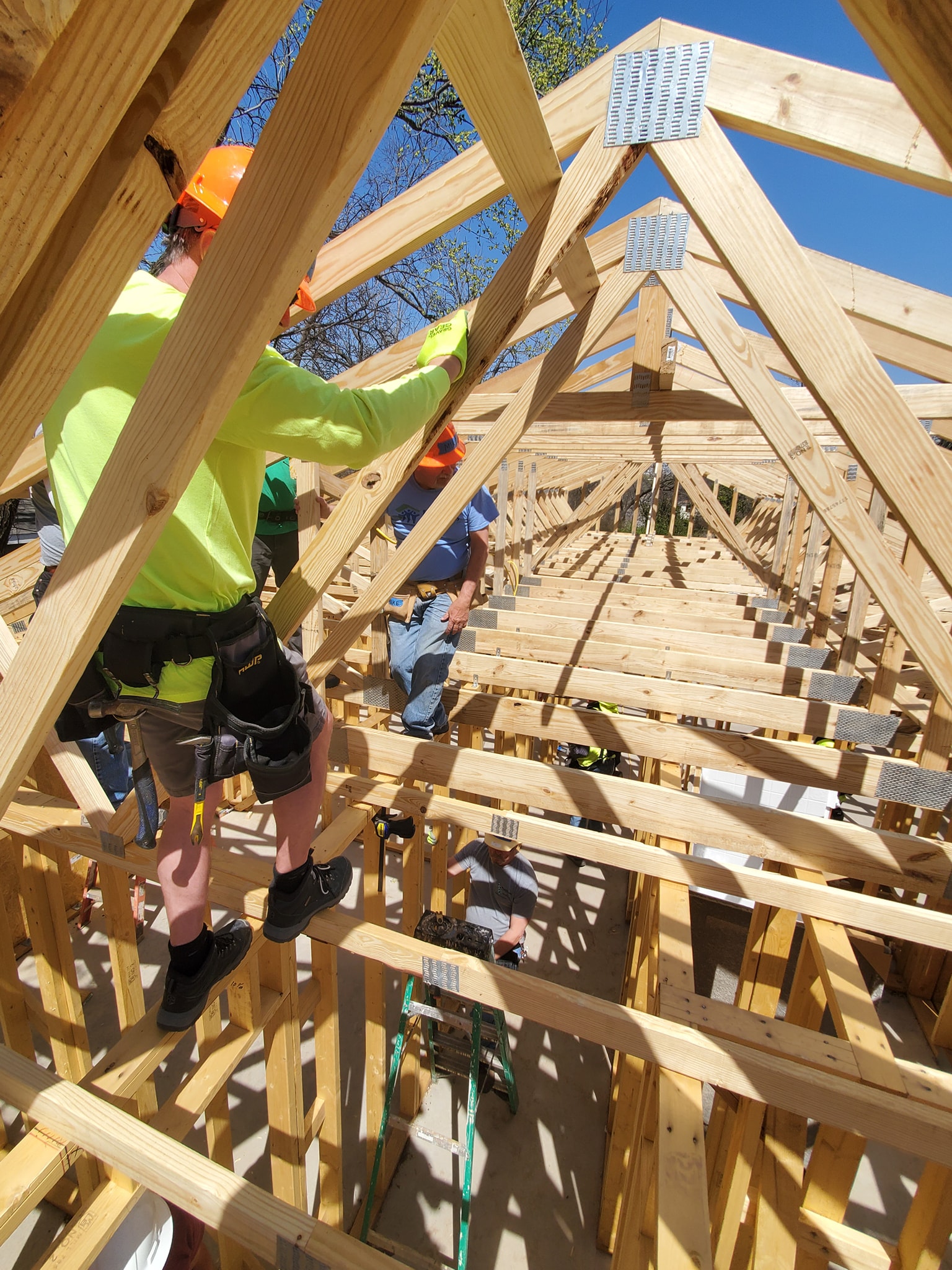 Upcoming Events & Dates to Know
Wednesday, October 20, 2021 @ 7:00 PM @ Trietsch Memorial United Methodist Church: 2021 Interfaith Build Celebration Event

Saturday, December 18, 2021 @ 10:00 AM @ 506 Wye Street, Denton, TX 76205: Groundbreaking Ceremony

Thursday, January 6, 2022 @ 6:00 PM @ Islamic Association of Lewisville/Flower Mound: Volunteer Safety Training and Build Information Event

Saturday, March 5, 2022 @ 506 Wye Street, Denton, TX 76205: Walls Up! First Construction Day on our 106th Home. Contact your volunteer coordinator if interested in signing up to volunteer.

Thursday, July 14, 2022 @ 6:00 PM @ 506 Wye Street, Denton, TX 76205: Dedication Ceremony! Save the date and plan to join us for this Dedication. All are welcome to attend! We will celebrate with hot dogs, cake, and more following the ceremony. Thanks to a generous donor, the local Gnome Cones truck will be there offering complimentary "gnomesicles" to all. Don't miss this community celebration honoring the Crawford Family!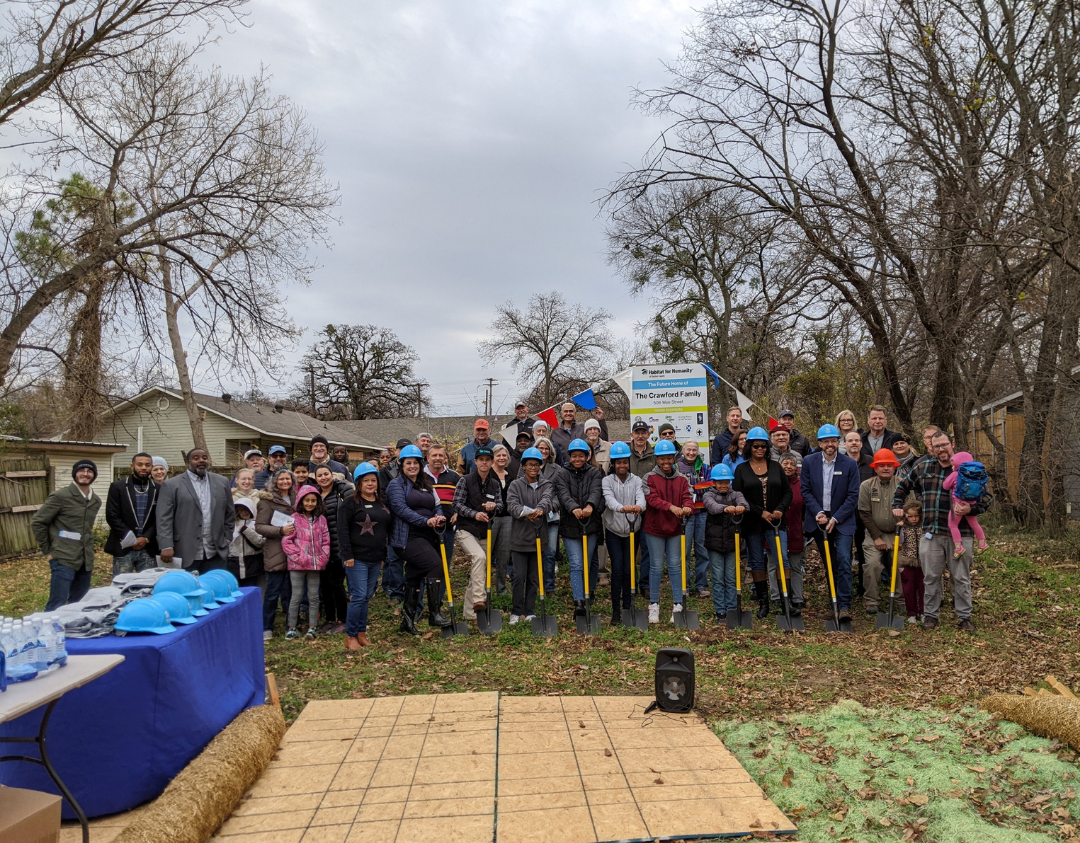 Groundbreaking Ceremony
We have officially broken ground on this home! On Saturday, December 18, over 50 people gathered at 506 Wye Street in Denton to witness the Groundbreaking Ceremony that marked the beginning of the 2021 Interfaith Build. This also marked the beginning of a brighter future for the Crawford Family.

Levatta and her five children are such a sweet family, and we are honored to partner alongside them as they build their future. Her youngest and only son, Keenen, got a lot of attention at the ceremony, with many people asking him if he was getting excited to finally have his own room!

Special thanks to our Interfaith Partners and Ruth's Room for supporting this home.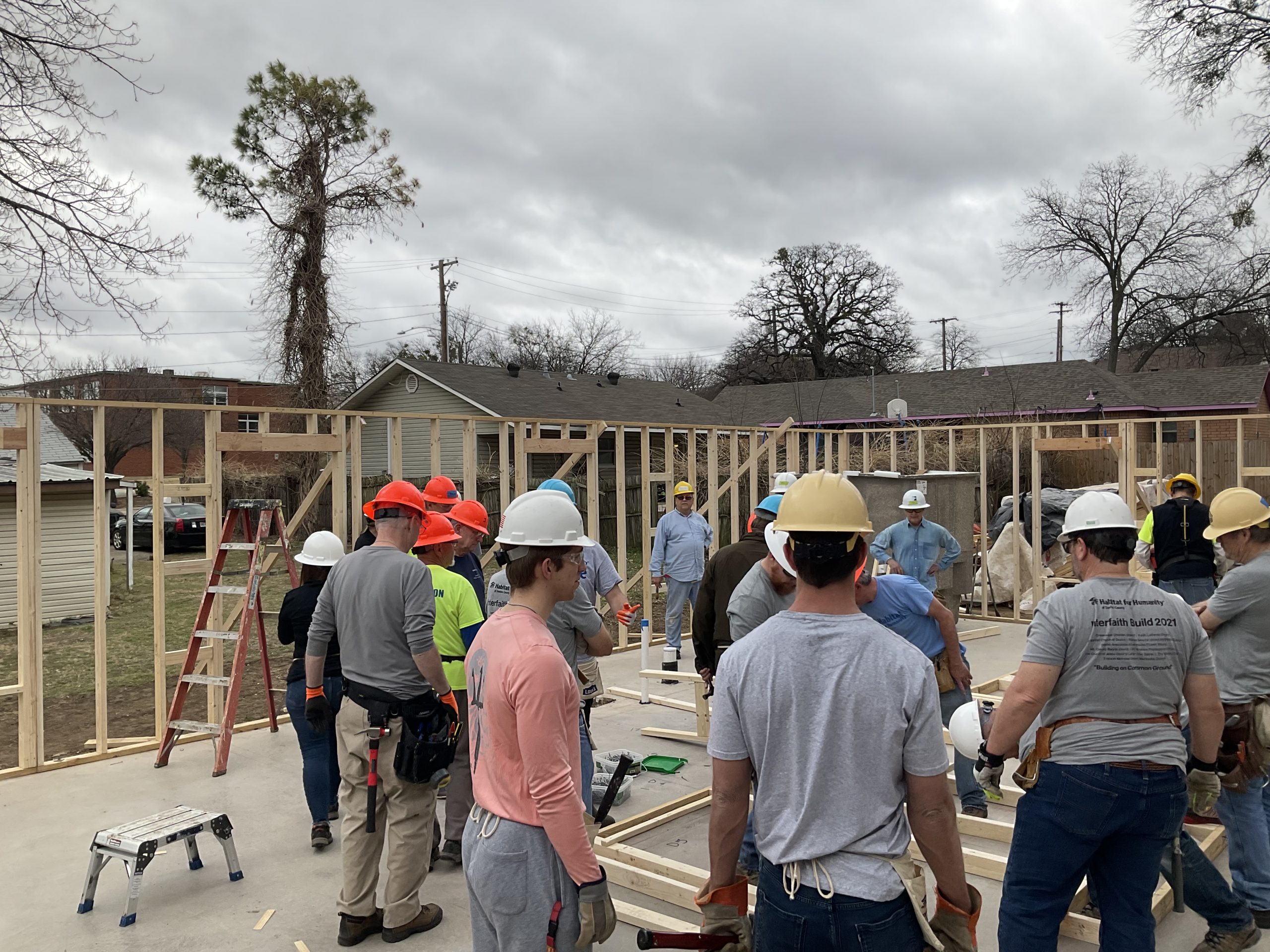 Walls Up!
"Walls Up" on Saturday, March 5 on the Interfaith Build was a success! Thank you to all our amazing volunteers, especially our Interfaith Partners, for making the building of our 106th home possible. We are blessed to have so much support from the community as we build this home alongside the Crawford Family.

We will be building this home for the next 12 weeks, through the beginning of June 2022. Please contact your congregation's volunteer coordinator or call Habitat at 940-484-5006 if interested in getting involved and volunteering!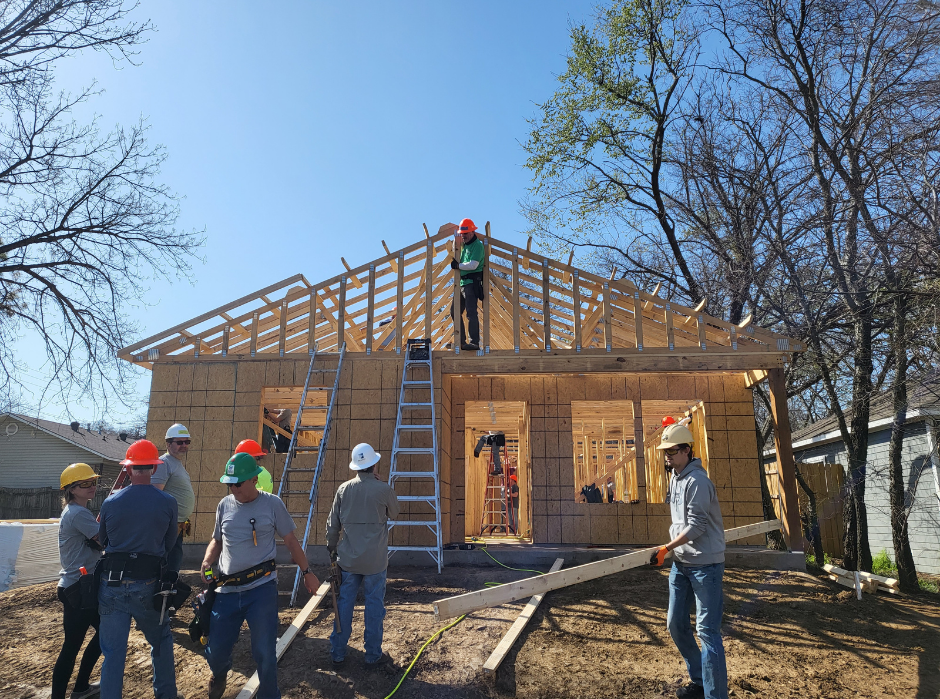 OSBs and Roof Trusses
Since Walls Up, our amazing volunteers have installed the OSBs on the frame of the house and installed the roof trusses. Both of these significant, labor-intensive tasks have helped to establish a stable, secure, high-quality frame for the home - an essential element for all Habitat homes.

Special thanks to Trietsch Memorial United Methodist Church for providing lunch on Saturday, March 26 for all volunteers on roof trusses day!
Blue board and siding and windows... oh my!
During the first half of April, our volunteers successfully installed multiple items onto our Interfaith Build home at 506 Wye Street in Denton: the "blue board," a special type of drywall; the siding; windows and doors; and the fascia, which is a transition trim between the home and the roof that supports the shingles and keeps out moisture. Keep in mind, many of our volunteers have little to no experience in construction, yet Habitat continues to build high quality, energy-efficient homes that pass all inspections, year after year. A generous heart and willingness to serve goes a long way at Habitat Denton!

Special thanks to St. Andrew Presbyterian Church for providing lunch on Saturday, April 9!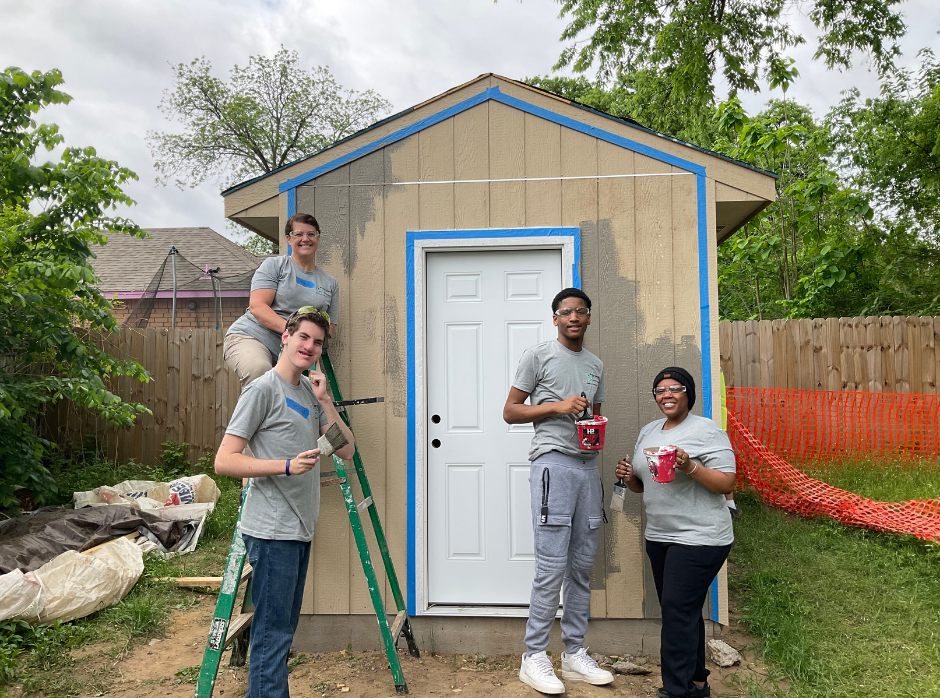 Painting!
On Saturday, April 23, our Interfaith partners continued the work on the Crawford Family's future home, giving the house and shed two coats of paint! The paint color that Levatta chose for her new home is called "Caribou Brown." Our Partner Families get to choose several aspects of their home based on their likenesses, including cabinet color, appliance color, light fixture styles, and more! In addition to the stability, security, and safety that a a Habitat home offers, this is just one more way to make their new house feel more like home.

Special thanks to Creekwood Christian Church for providing a delicious casserole lunch on Saturday, April 23!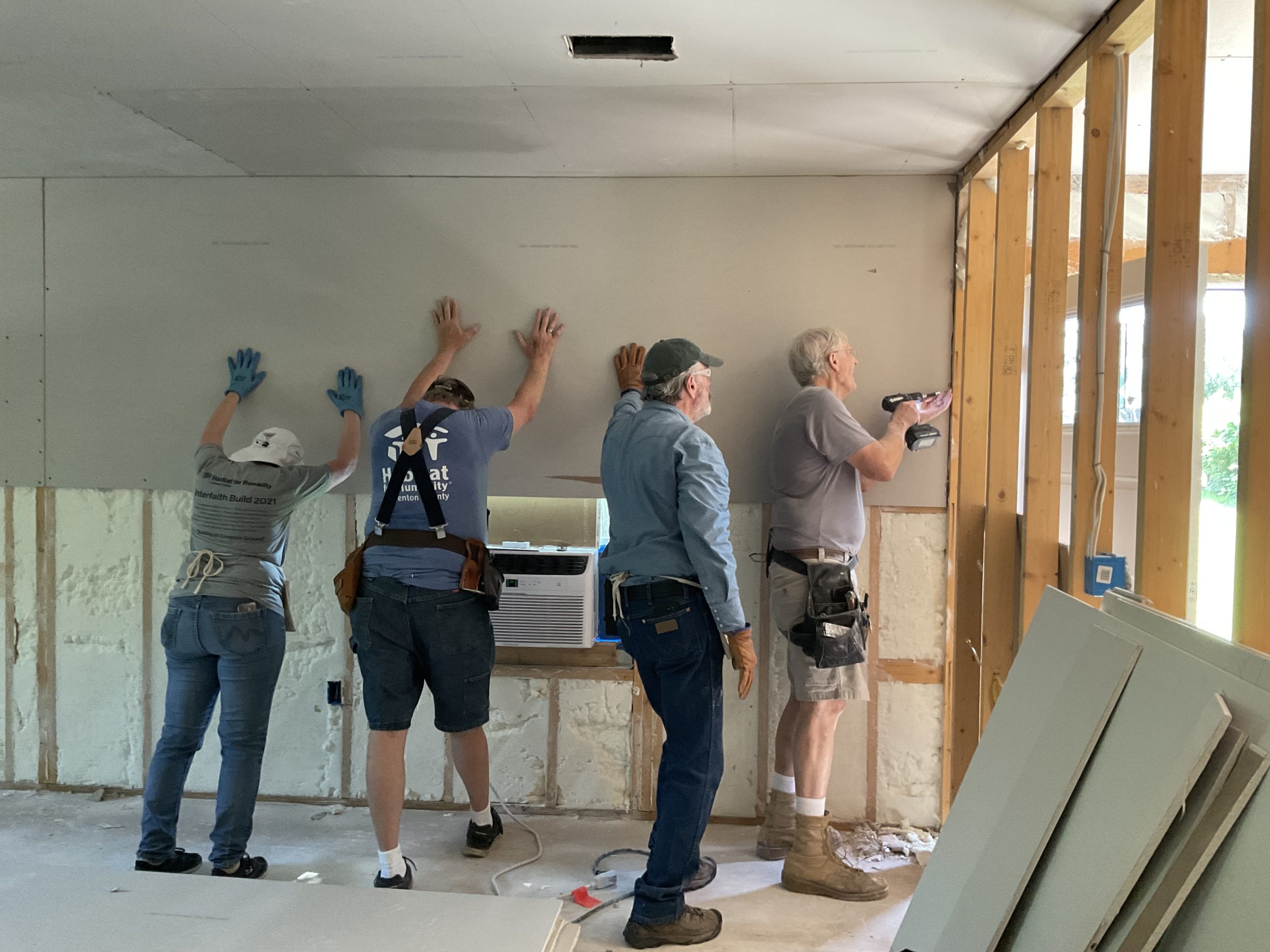 Drywall
We've made fast progress on the future home of the Crawford Family in the last couple of weeks! On Saturday, May 7, our Interfaith volunteers moved all 122 sheets of drywall into the house for installation, and Saturday, May 14th's volunteers installed the drywall inside the home.

Special thanks to the Church of Jesus Christ of Latter-day Saints for generously providing lunch for all volunteers on April 30, and to Flower Mound United Methodist Church for providing lunch on May 14.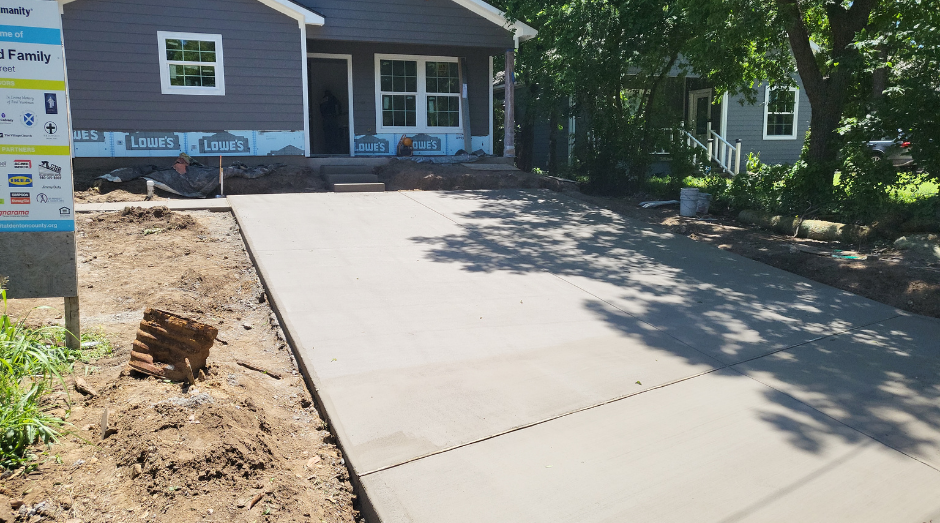 Interior Paint, Cabinets, and Concrete
Thanks to the hard work of our awesome Interfaith volunteers, this house is moving along smoothly. The whole interior of the home has a fresh coat of white paint! The kitchen cabinets have also been installed, thanks to our corporate partner, IKEA. Also just this week, the concrete for the driveway and sidewalks for the home have been poured! This home is nearing completion and we are so grateful for all the volunteers, partners, and sponsors making homeownership possible for the Crawford Family.
Special thanks to the Baha'i Faith Center of Flower Mound for generously providing lunch for all volunteers on May 21.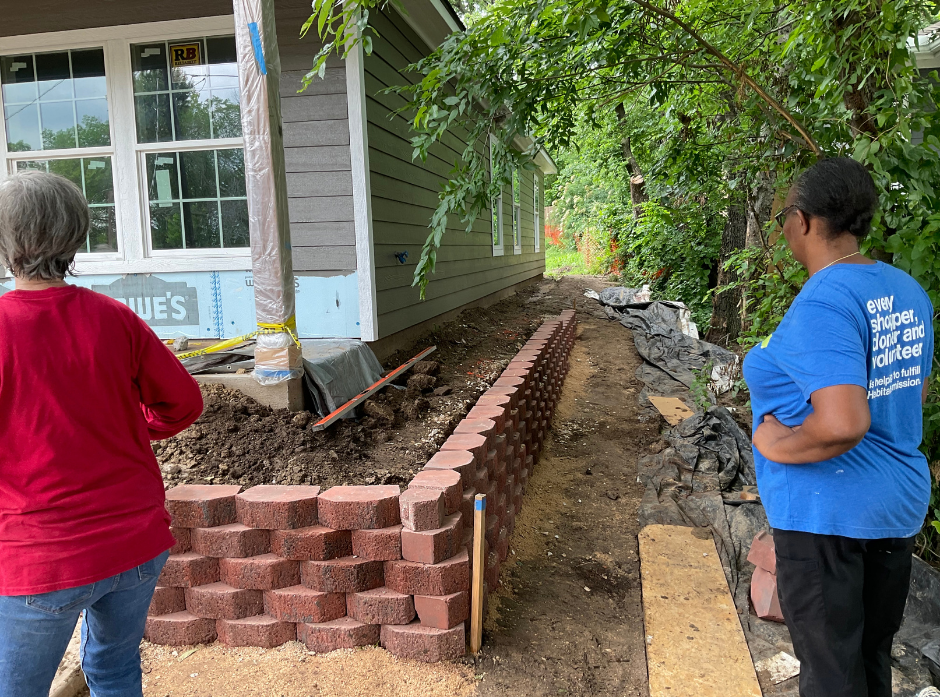 Retaining Wall
Volunteers from our Interfaith partner congregations came out to help build a retaining wall for this home. Not all of our homes have this feature, but with the difference in ground elevation on this specific lot, the retaining wall is necessary to battle gravity and retain that difference in ground elevation that you see here. This was a huge task that could not have been accomplished alone. THANK YOU to all our volunteers for their amazing work!
The flooring and interior doors of the home have also been installed. Our volunteers also came out in the heat one Saturday to smooth the yard and spread Dyno dirt.
Special thanks to Flower Mound United Methodist Church for generously providing lunch for all volunteers on June 11.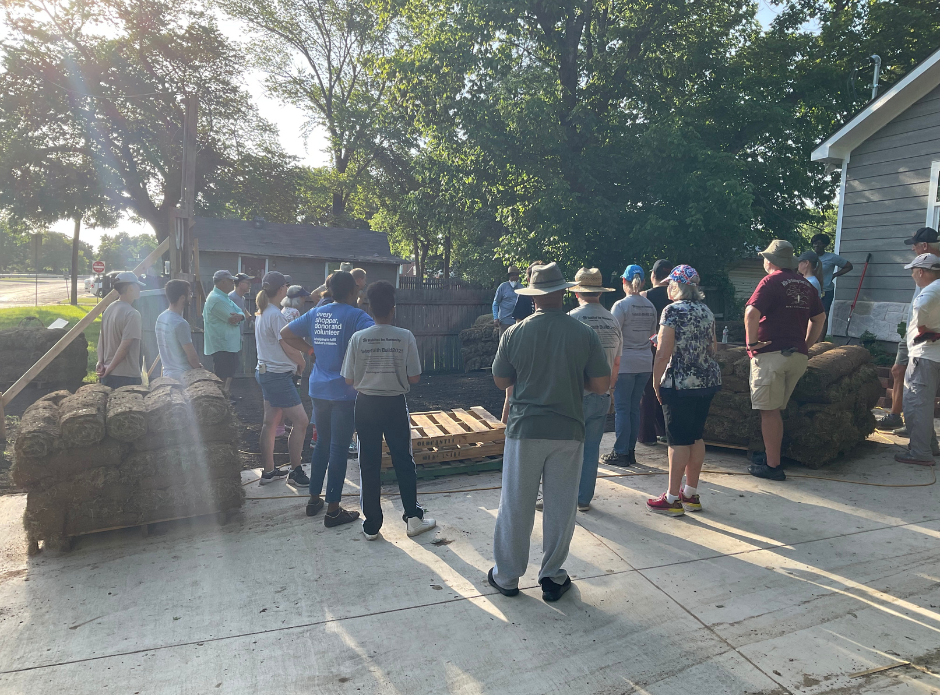 Laying Sod
We had an amazing turnout on Saturday, June 18, with many volunteers showing up to help us lay sod quickly and efficiently all around the property of this home. Even in the heat, we were able to accomplish this huge task, thanks to your support! This was one of the final steps toward completing this family's home. We can't wait to all be together to dedicate the home on July 14!
Our 2021 Interfaith Build Partner Ministries
Past Interfaith Build
May 19, 2018
Watch this video to learn about the Interfaith Coalition's work on the Tarmo Family build, Habitat's 98th home in Denton County.