Here you can find the most up to date information about Habitat for Humanity of Denton County. From press releases, to photos, to news articles…it's all here!
Contact Public Relations Coordinator Kayla Padol with any inquiries: kayla@hfhdentoncounty.org
Habitat Denton Gives 98th Family Keys to First Home
August 7, 2018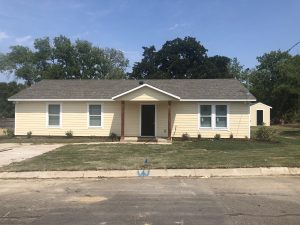 After 13 weeks of construction and partnership with Habitat for Humanity of Denton County, the Tarmo family of seven will accept the keys to their first home alongside those who helped make it possible and community leaders. 
On Thursday August 9 at 6 p.m. Habitat for Humanity of Denton County will host a public Dedication Ceremony to welcome their 98th family into homeownership at 717 Cook Street.  
"The best part of my job as executive director is handing the keys to a new home to a partner family," Executive Director John Montoya said. "These families work so hard building their homes. The moment they receive their keys is the culmination of months of effort by many people, but I'm fortunate enough to get the first hug." 
This home was made possible by volunteers, donors, and the Interfaith Coalition: a group of seven different faiths that helped raise money and committed volunteer hours to help families get into decent and affordable housing. 
"It is because of all of you that this is possible," Benedict Tarmo said. "On behalf of my entire family, thank you." 
To inquire to become a homeowner, make a donation or to become a volunteer, visit HFHDC's website at habitatdentoncounty.org. 
Keller Williams Denton volunteers with Habitat for Humanity [Denton Record Chronicle]
May 11, 2018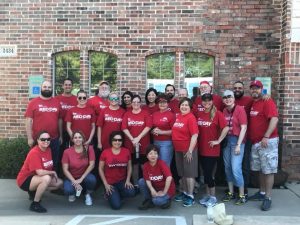 Associates with Keller Williams Realty Inc. in Denton spent the day Thursday with Habitat for Humanity of Denton County as part of the company's annual day of service called RED Day, which refers to renewing, energizing and donating to local communities.
Habitat for Humanity partners with people in local communities, and all over the world, to help them build or improve a place they can call home, according to a press release issued by Keller Williams.
Habitat homeowners help build their own homes alongside volunteers and pay an affordable mortgage.
With local support, Habitat homeowners achieve the strength, stability and independence they need to build a better life for themselves and for their families, according to the release.
"RED Day is built on the belief that people can and should come together to achieve extraordinary things to help others," said Tricia Andrews, a team leader for Keller Williams Realty in Denton. "This year, we made it possible for a family to make their home in Denton."
John Montoya, who is the executive director of Habitat for Humanity of Denton County, was grateful for all the volunteers who helped with Thursday's project.
"The volunteer efforts will significantly reduce the cost of building this home for the Tarmo family," Montoya said. "Overall the impact is exponential when we look at the time invested and the passion for giving that this group has."
Since the first RED Day in 2009, Keller Williams associates have given hundreds of thousands of hours of community service through activities ranging from food and blood drives to rebuilding homes and schools for community members in need.
https://www.dentonrc.com/business/keller-williams-denton-volunteers-with-habitat-for-humanity/article_c841cacc-81f4-5801-b72b-56990bd8007f.html
Breaking Ground and Breaking Barriers: Habitat's 99th Build
May 16, 2018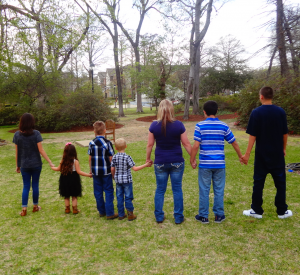 On 609 Maddox St. lies an empty lot soon to be filled with construction and volunteers with one mission: to build up the Denton community. On May 9 the first shovel hit the ground on the vacant ground marking the beginning of one family's journey to homeownership. 
 Over the past 24 years Habitat for Humanity of Denton County has built 98 homes in the community for people in need of a decent and affordable place to live. This new empty lot will be transformed into a beautiful home for Habitat's 99th family partner, the Stubblefields. 
 Amanda Stubblefield and her six children are the newest family to partner with Habitat for Humanity of Denton County to become homeowners with 0% interest and at an affordable rate. 
"It is so exciting to work with Amanda as she embarks on this partnership with Habitat," Family Services Administrator Kariel Miles said. "As we build this home for the Stubblefields to live and grow in, we work towards a Denton County free from substandard housing." 
Seeking to put God's love into action, Habitat for Humanity brings people together to build homes, community, and hope. 
"Providing access to decent and affordable shelter for families is our priority and we can't wait to walk with Amanda and her children during this life changing journey through homeownership," Executive Director John Montoya said.  
Building On Common Ground: Habitat's Interfaith Coalition Funds 98th Build [North Texas Daily]
April 11, 2018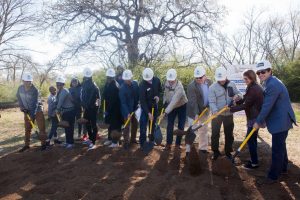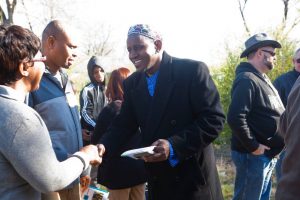 An uncommon alliance has formed between Jewish, Muslim, Baha'i and Christian congregations in Denton County. The Interfaith Coalition has united for a common goal, to build a home for a family in need of a decent place to live.
"To see all these people from different faiths and backgrounds come together so flawlessly to serve their local community empowers and gives me incredibly high hopes for our county," Habitat for Humanity Denton County Executive Director John Montoya said.
Seven different faith communities joined together in the spirit of service as Habitat's Interfaith Coalition to raise almost the entire cost of Habitat for Humanity of Denton County's 98th build for the Tarmo family.
HFHDC is part of a global, nonprofit housing organization operated dedicated to eliminating substandard housing through constructing, rehabilitating, and preserving homes; by advocacy for fair and just housing policies; and by providing training and access to resources to help families improve their shelter conditions.
"I bought a trailer for my family to live in," Benedict Tarmo said. "I had no money because I just got my family here from Tanzania. It was awful, bad."
After learning of his substandard housing situation, The City of Denton was able to connect Benedict, his wife Mary, and their five children with HFHDC and they were approved to be homeowners.
"We provide a permanent housing solution. We are building more than just homes, together we are building a community," Montoya said.
Benedict was awarded a United States Visa in 2001 and left his life in Tanzania in 2004 as a doctor to start his life in the US. He wasn't able to see his family often, but remained hopeful of building them a better future.
"I was looking for a high quality life, a good life," Benedict said.
After moving here, his journey was full of hardships. For the first two and a half years he wasn't able to see his family. He lived with other people who mistreated him and went through many struggles with housing. In 2010, he was granted U.S. citizenship and after nearly a decade-long process, and his family was able to move here in 2012.
Now, the Tarmo's are seeing that better future as construction begins on their home.
"It is because of all of you that this is possible," Benedict said. "On behalf of my entire family, thank you and thank you so much."
The Tarmo's home will be built by construction workers, volunteers and the Tarmo family themselves. The home will then be bought at cost with a 0% interest rate because of the financial support of HFHDC and the Interfaith Coalition.
"Despite all the adversity and strife our nation is dealing with, hundreds of local North Texans are embracing each other to build homes for families like the Tarmos," Montoya said.
One family at a time, Habitat for Humanity works towards a vision of creating a world where everyone has a decent place to live.
"To be able to walk alongside our partner families hand in hand while they achieve their dreams is one of the most empowering emotions you will ever feel," Development Program Manager, Keri Marie Sutherland, said.
If you would like to inquire to become a homeowner, to make a donation, or to become a volunteer, please visit HFHDC's website at www.habitatdentoncounty.org.
https://issuu.com/ntdaily/docs/be_green___north_texas_daily_enviro
Habitat Denton Voted Best Community & Non-Profit in UNT Student Choice Awards
 March 8, 2018
Thank you to all who voted for us! We love our local students!
Habitat for Humanity of Denton County Announces New Executive Director [Star Local Media]
December 27, 2017
Habitat for Humanity of Denton County (HFHDC) is thriving with the support of local community partners.
As of Dec. 4, HFHDC has welcomed John Montoya as its new executive director. Montoya comes from United Way of Denton County (UWDC) as the director of financial capability Initiatives and brings with him a wealth of knowledge and relationships within the city of Denton.
Montoya said, "I am excited by the opportunity to lead such a vital non-profit that builds homes, community and hope."
Under his leadership, vision and guidance, HFHDC is on the precipice of a great expansion that would not be possible without our community partners, officials said.
Partners such as Denton's Paul Voertman, who gifted Habitat Denton County $300,000 in his last will and testament. Voertman has been an annual supporter of Habitat Denton County for years and pledged an untold contribution when he visited the administration office in late 2016.
In his memory and honor, Habitat Denton County will magnify his donation by partnering with other local organizations and congregations within the community to ensure his generosity has a generational-changing impact for multiple families of North Texas.
The average Habitat home costs roughly $100,000, which the organization sells to our future homeowners with a 0percentinterest loan.Habitat welcomes people of all origins, faiths, races and ethnicities to apply to be homeowners and work with us to further its cause. Its foundational principle is "Everyone deserves a decent place to live."
To celebrate this adage, HFHDC is partnering with several faith communities within Lewisville and Flower Mound, to fund and build a new home for our next family partners, the Tarmos. This Interfaith Coalition has already raised 75 percent of the cost of a home and have no plans to end there.
Brian Strohl, Habitat Board member and Interfaith Coalition Leader stated, "Our goal is not how much can we raise for a home, but how many homes can we build?"
It is through partnerships such as Voertman, collaborations like the Interfaith Coalition, strong leadership in Montoya and passionate staff and volunteers that Habitat Denton County has been able to change the lives of 97 families within the county, and plan for future homes such as the Tarmos.
To inquire to become a homeowner, make a donation or to become a volunteer, visit HFHDC's website at habitatdentoncounty.org.
http://starlocalmedia.com/theleader/news/habitat-for-humanity-of-denton-county-announces-new-executive-director/article_404c2a1e-eb24-11e7-a3aa-d715e01261ba.html